Throne Dock
'The Ultimate Charging'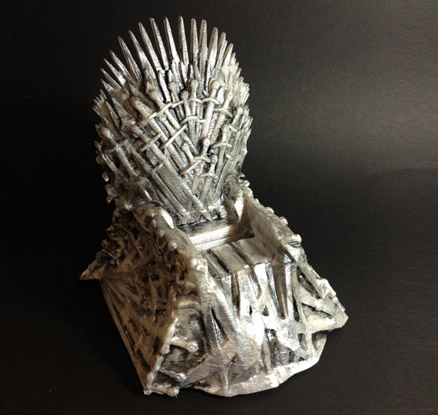 Product Throne Dock
Materials Resin, Acrylic Paint
Dimensions mm H 174 mm, W 148 mm, D 118 mm
Dimensions in H 6.85 in, W 5.82 in, D 4.64 mm
Throne Dock gallery
iPhone/Android Dockin Station
$59.99
$$49.99 (PRE-ORDER until 3/31/13)
Disclaimer: This product is not anyway associated or endorsed by HBO or any of distributors. This was an original piece of fan work that was made for personal purposes.
Description:This phone docking station is the perfect home or office desk accessory, whether in use as a phone charger or as a unique piece of 3D printed art. Let your friends and coworkers tremble at the sight of your Throne Dock.
Originally modeled and constructed through our rapid prototyping process and 3D printing technology, the Throne Dock is scheduled to be manufactured and available at regular purchase just in (March 31, 2013). After final concept and design, the throne is injection molded with high quality material, assembled by hand, then individually painted to make each dock truly one of a kind. All manufacturing and processing is handled by nuPROTO here in the US.
The Throne Dock is designed to use an interchangeable base that fits multiple stock charger cables for both iPhones and Android devices.
Dimensions: 5.8" x 6.8" x 4.6" (WxHxD)
High quality materials and construction
Dock is compatible with most mobile chargers
Adaptable dock tray fits any micro USB cable
Manufactured and painted in USA
*UPDATE 1/24/13*
The Throne Dock has been continually improved and final dimensions are set. The images displayed in the gallery are of the initial development, and will be updated once the newest CAD model is complete.
*UPDATE 2/6/13*
Due to a cease and desist letter from HBO we are pulling the product until we can work something out with HBO. Keep checking our site and blog for an update of this matter. Thanks for the interest and please check out our other product development services and other products.
*UPDATE 2/7/13*
HBO declined our offer to license the throne charging station because another company has licensed the idea of a throne charging station.
Money will be refunded to those few who bought this product and we apologize if anyone thought this was anything more than inspired fan art work. (PS. we are working on something better)
*UPDATE 2/20/14*
We waited a year to see if HBO would release the Phone Docking station in the shape of a Throne. (they never did) maybe they should of contacted us for our rapid prototyping business we would have done producing them by now. Check out our Ble Meth Throne
http://www.nuproto.com/bluethrone.html
Anyways we never released any 3d printed files or continue the sales of this prototype in order to stay in good stance with HBO.
We since released other products and tried to gorw our company in order to approach HBO. We found the licensing department and contacted them directly in order to license products for the old show "The Wire" since they have almost non existing merchandise for this show. We also asked for them to reconsider their decision to provide us a license the Ithrone docking station idea.
However, HBO refused to issues a license for the show "The wire" and the Ithrone idea. According to them we need to be a multimillion dollar company with track record of selling items like this. We have experience selling items like this but unfortunately we aren't a multimillion dollar company. Also All of our products are made here in the USA so ou profit margins aren't as big as they would like. So looks like they rather have no one own this ithrone.